What happens at our Open Afternoons?
Our Open afternoons are a great opportunity see and hear all about the work at our centre
You can find out all about the work we do at DIWC, meet some members, volunteers and staff.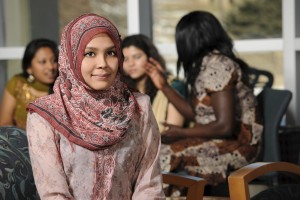 You can also explore the different activities available at the centre, learn more about the range of classes available and ask questions about memberships, volunteering, vacancies, and anything else on your mind.
Making the most of the Open Afternoon
When you arrive you will be met by our friendly reception staff who will direct you to our welcoming community area.
Once everyone has arrived, you will be given a tour of the centre followed by a talk on the history of DIWC, our vision and mission, how to become a member, volunteering and much much more.
If you need help with English, someone will be available to assist you.