Cultural Diversity Training
There are many different communities living in Dundee today. Increasingly, we welcome people from different cultures into our workplaces. This non-judgmental, interactive workshop encourages people to think about their own culture and put themselves in the shoes of others.
Help your staff to understand cultural differences and feel confident to work with those from diverse backgrounds.
This training is available for groups of up to 20, and is run by DIWC's experienced Project Workers.
GET IN TOUCH: Contact Fatima Ramzan for more information or to arrange a session.
fatima@diwc.co.uk | 01382 462 058
Harmful Practices: Understanding & Prevention: Training for Professionals
What do we mean by Harmful Practices?   Harmful traditional practices are forms of violence which have been committed primarily against women and girls in certain communities and societies for so long that they are considered, or presented by perpetrators, as part of accepted cultural practice.
These issues are reported in the media but having a fact-based approach is the best way to understand these issues. As professionals, you may in your work come across those affected by these practices. Understanding how to respond will enhance your professional practice.
What can I expect from the training?   You will learn about different forms of Harmful Practices through a series of short presentations and videos. Through open discussions and group work you will have the opportunity to ask questions and further expand your understanding of the subject.
Topics covered
Honour Based Violence (HBV)
Forced Marriage (FM)
Female Genital Mutilation (FGM)
Aims of the training
To gain an understanding of what is meant by the above terms
To explore the cultural contexts of these forms of Harmful Practices
To understand the physical and mental effects Harmful Practices can have on an individual in the short and long term
To give you confidence working with those who have experienced Harmful Practices
To understand the laws around Harmful Practices in Scotland
Recent feedback: "I never knew this happened in Scotland. I now have the confidence to work with people affected. The short videos helped me understand. I particularly appreciated the depth of the information and stories around FGM and found Diare's story both humbling and empowering. I was struck with the passion and commitment both Fatima and Diare brought to the session. There was a genuineness and connection to the information being shared."
"We found the event informative, interesting and were hugely impressed with what is being achieved in terms of awareness raising.  Hopefully greater awareness and support for women will continue to grow and lead to a reduction of these harmful practices against women and girls across the world."
INFORMATION & HOW TO BOOK
We can accommodate groups of up to 20 adults. Please note that due to the nature of the subject matter, this training may not be suitable for younger audiences.
DURATION: 2.5 hours
GET IN TOUCH: Contact Fatima Ramzan for more information or to arrange a session.
fatima@diwc.co.uk | 01382 462 058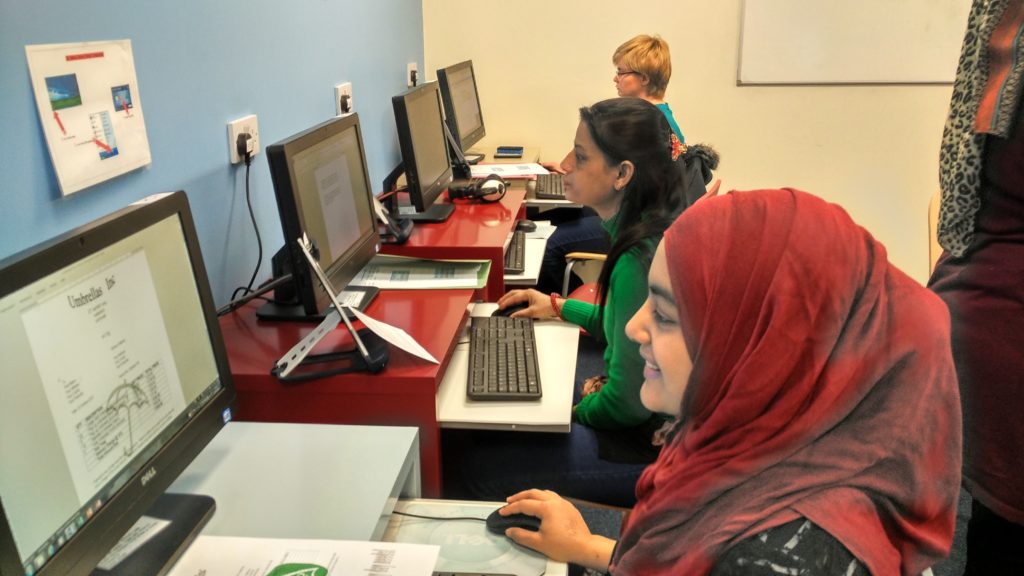 Safety Net: how to stay safe online: FREE interactive training
What can I expect from the training?
Safety Net is an interactive session that goes beyond the usual 'how to be safe online' and offers a hands on session – you can bring your phone/laptop/tablet if you wish. Fatima and Vaqar will help you look at:
how to keep you/your family/your community group safe online
why some people are more vulnerable online
how online predators search for those to be 'groomed'
what is radicalisation – why are some people vulnerable to radicalisation?
Fatima and Vaqar have facilitated 'Safety Net' across Scotland and are skilled at working with adults and young people from a variety of backgrounds, cultures and religions to explore the common themes of social media usage and online vulnerability.
Format
2 hour workshop combining presentations, short videos and group activities plus lots of opportunities for open and interesting discussions.  Talk to us about what your group needs beforehand.
Aims of the training
To examine difference between unacceptable/acceptable social media usage.
To help professionals and community members become aware of what dangers are online and how this can affect an individual's life.
To help professionals understand and feel confident to be able to deal with issues relating to extremism and online grooming and how to access and provide support to anyone who is in harm.
Recent feedback: "The session was very useful and informative, it's good to discuss situations and examples of online bullying and grooming".
"Excellent informal session - really thought provoking".
"Very informative and well-presented. Good discussions and interactions".
INFORMATION & HOW TO BOOK
We can accommodate groups of up to 20 adults. The session requires internet access plus projector and/or Smartboard. DURATION: 2 hours. COST: FREE
GET IN TOUCH: Contact Vaqar Salimi for more information or to arrange a session.
vaqar@diwc.co.uk | 01382 462 058