Growing up in a male-dominated environment, Narinder achieved something others would not have thought possible – becoming the first female lawyer in her village in 1968. But she couldn't have done any of this without the support and sacrifices of her father. Read her amazing story here.
Born into a male favoured society
"The community where I grew up was very backward. Ladies did not go to school at that time. In 1935 my cousin was the only one in the family who was educated. Those days having a girl was a liability. My father told me that the moment the family finds out they are having a girl they would kill the baby when she was born. My father was against it and started preaching that if anyone does this in the village, then they wouldn't be allowed to stay in the village.
My mother was a very beautiful lady, but I look more like my father. I was born with dark skin. At that time beauty was described as having fair skin. My Massi (mother's sister) who visited my parents immediately after my birth, said to my parents what will they do with a dark skin girl like me? She suggested to my parents to kill me, but my father was furious and banned my massi from coming home. My father feared for my life.
Getting a good education
He cared for me and my sisters with lots of love and brought us up very well. He encouraged us to study and get an education. Society at that time was really backward and girls didn't get an education, so we were very blessed to have this support from my father. I was really keen to study, so I started going to a district school where I travelled a long journey (on a horse) but only for a few days of the week. I was the first one to go to school and get an education in my family.
My father will remain my biggest inspiration in my life… and I will forever be grateful to him.
I completed my 10th grade in 1947 in Pakistan. During that time the partition between India and Pakistan happened. My family then moved to India. My father wanted me to become a doctor but getting into medicine then was really tough – there were no colleges or school where we lived; we didn't even have any roads built yet!
Becoming the first female lawyer in my village
After a few years of moving to India, I got married. I always wanted to study. I was adamant that I want to get further education and get a qualification. My husband also encouraged me a lot to study further. So I did my BA (Bachelor of Arts) in 1954 and then LLB (Bachelor of Law) and became a lawyer. My husband was very helpful during this process.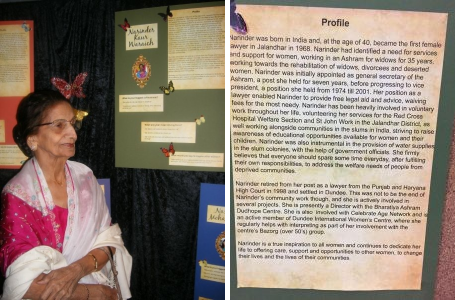 I was the first lady in my district to become a lawyer and continued in this profession. During those days only men would become lawyers. But I took a challenge upon myself and I was determined to change this. When I went to court I was even addressed as "Advocate Saab" (Advocate Sir) which is how men are greeted, as there was no word to greet lady lawyers at that time and most professions were dominated by men.
My father – an amazing man
My father gave lots of sacrifice for the independence of India and during British Rule became an MLA (Member of Legislative Assembly). He is the reason I have achieved so much in my life and I will forever be grateful to him. He had a lot of stamina and was very intelligent despite limited education. He will remain my biggest inspiration in my life. I would have loved to write a book about him."
Narinder Kaur #womenofdundee