Finding it a struggle to get back into the workplace after having her children, Samina found the answer in DIWC's employability course and has never looked back. Read her story below.
Starting a family and being a stay-at-home mum
As a mother of 3 children, Samina did not have many opportunities to come out of her house and do things just for herself.
She was married at the young age of 18 and had to secure employment to be able to bring her husband to the UK to join her. Two years after her marriage, she fell pregnant with her first son and had to quit her job.
After she had her second son, she managed to secure part-time employment, which she again decided to leave in planning for her third child.
The third pregnancy wasn't a straightforward one and nor was the delivery. These events, and the fact that she was home with the children, mostly by herself, led to the first symptoms of depression and OCD.
Samina lived with depression for 8 long years and kept it to herself. It was only after her daughter started school that she realized that she was not coping well, and finally decided to do something about it. She really wanted to come out of her house and do things just for herself.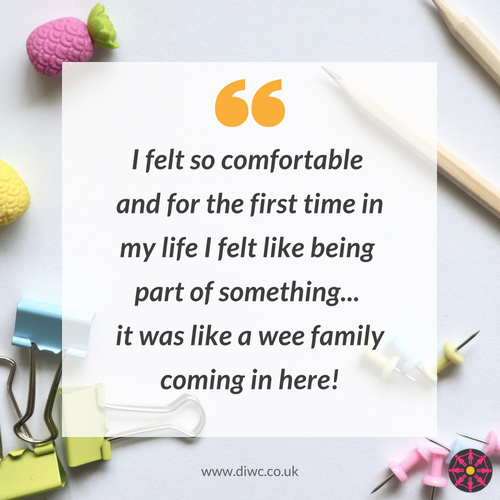 Finding a solution at the centre
Samina found out about DIWC's Open Days and decided to come and see if there would be anything for her. She thought about going into employment but did not know where to start after so many years of not working. However, in that short visit, she managed to find an employability course which she liked and signed up for it.
She started the course a few weeks later. To begin with, she felt undecided and lacked confidence to speak in the group. She felt shy and found it hard to contribute in class. However, it didn't take her long to realise that "everyone was in the same boat" and she was able to open up and express her opinions without hesitation.
Samina said: "I felt so comfortable and for the first time in my life I felt like being part of something".
Samina completed 5 weeks of the employability course and was able to create her CV and fill out numerous application forms. She didn't even have to take up the placement, as she soon gained employment following a successful application and interview.
Samina truly believes that she would not be anywhere close to finding a job if it was not for the help of DIWC, her tutors, and the other women who all believed in her and encouraged her to do more.
The GREAT employability course wasn't just learning: "it was like a wee family coming in here!"
Looking to the future
Samina totally enjoys her work. When she's there, she often wonders if she is in a dream, as she never felt it could happen to her. She is now a confident woman who believes in her skills and strengths.
"The centre gave me my life back", she admits, as she managed to overcome her OCD with a daily routine of getting ready to come out of her house and do something that means so much to her. "I feel so free and relaxed."
Through her determination and hard work, Samina achieved her goals and became a role model for her family who are really proud of her achievements.